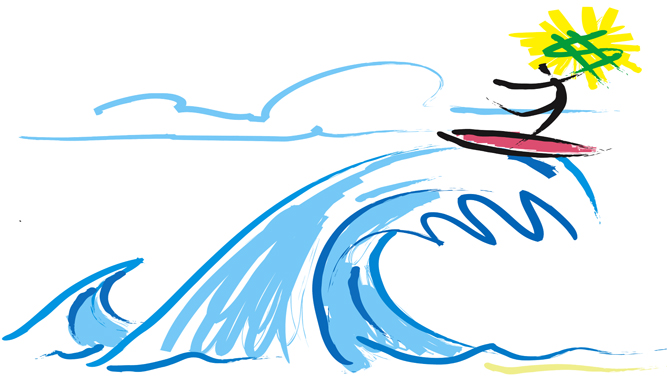 As you may recall, in
part 1
of this series we talked about commenting and linking to various trends to promote your freelance business. Today we talk about part two.
2 – Aligning your business marketing message with prevalent psychological trends.
I would argue that the ideal person most likely to purchase your services are looking to satisfy other needs beyond the obvious service you provide that are actually more influential in their decision to buy from you. Be sure to communicate and market what you provide in a context important to your audience.
Prudent spending – businesses are still spending on creative services, they're just spending more judiciously and looking for more value in where they invest their cash. Be sure to identify the REAL value in what you provide. If you are a designer, are you just selling pretty design? If you are a illustrator, are you just selling illustrations? If so, you are short changing yourself and your clients by not communicating fully your solution to their problem. Identify the real value of working with you. What are some of the not so obvious benefits that make working with you versus someone else a no-brainer? Show them you understand their needs and communicate the value of working with YOU.
Age defiance – is the engine that drives the explosive growth of the cosmetic and skin care industry, cosmetic surgery, fitness gizmos and other health products. These markets will only be getting larger in the years to come largely in part to the baby boomers. If your creative service is one that fits or CAN BE MADE TO FIT with one of these growing markets, integrate these messages into your marketing and promotion. For example, portrait photographers can capitalize on consumers desire for looking young, successful or vibrant by offering portraits of clients that will stand the test of time and capture their youth forever. It's not enough to do it, you must communicate it. Clearly.
Distrust, fear, anger of big corporations, government, wall street – need I say more. Bail outs, oil spills and irresponsible government spending, these are but a few. So if for example, you are an environmental artist you can easily tap into the outrage most are feeling over the BP fiasco. Comment, linking, taking a stand on the issue in your marketing and promotional material. Want to go further? Creating a series of works around the spill, creating an exhibit to add awareness, donating percentage of art sales proceeds to relief efforts, and putting the word out,  all are a legit way of tapping into this emotionally charged trend and catapulting you and your art into the forefront of peoples minds by linking to what's already there.
Overwhelm – in the areas of information, technology and time. How can working with you make some of these feelings go away for your clients?
Economic insecurity – The sense of shifting sands beneath your feet, dropping investments, retirement accounts, real estate and vanishing career fields.
Voyeurism and living through others – Mushrooming growth of reality TV.
Need for community – Social networking, social media, virtual on line worlds and games.
Super hero movie boom – Super heroes such as Superman and Captain marvel were made popular in large part due to the experiences of WWll. In large part these characters fighting for social injustice and in a few instances joining the war alongside Americans in their fight against the Nazis in their story lines. The connection made consiously or not. Us against them is a huge psychological trigger. Could this be what's driving this boom now? Who or what can you villainize in sharp contrast to yourself, your service or solution?
These are just a few. I urge you not to quickly dismiss this. With some thought and persistence there is a way for you to effectively link to almost any of these and more to align yourself with your prospective clients.
Use your knowledge of your prospect's nature to present your service in a way that is most appealing, more acceptable, more relevent to them.
Have any ideas or suggestions of your own you would like to share ? I'd love to hear them. Don't be shy, leaving a comment.
Related Posts: