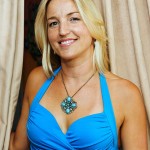 As a business owner, and that what "freelance professionals" are, you should always be asking "what's next?". What's next in the evolution of your business. What's next in the services you provide. What's next in who your ideal clients are.
Licensing is one of those areas I believe many artist should be looking at closely in their "what's next" scenario. While it's not easy, and may not be for everyone, it can certainly be profitable and smart way to diversify your time, talent and creative business.
So, with that said, this interview is with the gracious and talented licensing expert Maria Brophy. She has a wealth of practical, real life experience and generously shares with us her years of experience representing and marketing her husband Drew Brophy's surf and lifestyle art. She also shares many insights into finding the right partnerships, negotiating advances and royalties, as well as things to watch out for in structuring contracts.
Maria even candidly shares the finer details of her latest and largest licensing agreement to date with Converse, as they partner to bring you the Brophy Converse Chuck Collection
You can also find Maria on her consistently well written blog at MariaBrophy.com.  Thanks Maria for your time and expertise : )
Have you licensing your work? Are you considering it? Feel free to share your comments. There's plenty of room for us all to learn from each other and I would love to hear your thoughts.
Interview Resources:
Licensing Art & design – Caryn Leland
Licensing.org
Licensing University
The paint shop
Art Licensing Blog by Artist Tara Reed
Related Posts: