Are You Ready For A Simple And Effective Solution To Getting Your Art Career On Track And Producing The Results you Want without all the excuses!
Introducing the

What this Blueprint will help you with:
Zero in on your ONE big idea that will propel you to your best year ever
Get crystal clear about what's REALLY holding you back creating the work and earning the money you want.
Focus and prioritize your top ten 'must get done' projects for the next 12 months
Taking the right daily actions to start getting results fast
Here's what you get in the 'DrawnBySuccess Artist's Success Blueprint'
A series of 4 audio lessons (2 hrs in total)
Three sets of powerful, carefully crafted worksheets created specifically to address the BIGGEST roadblocks keeping artists just like you from attracting more clients and earning the income you want. (over 20 pages)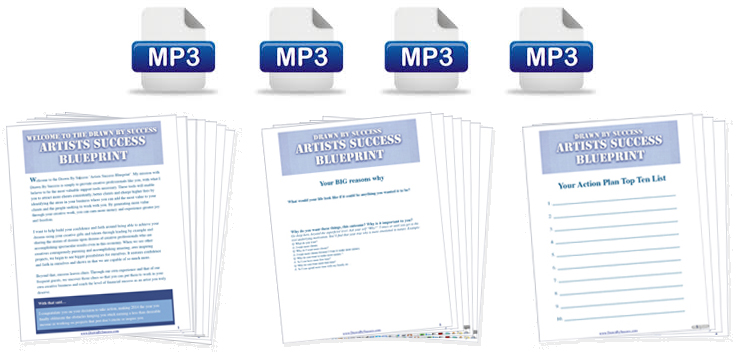 In addition, you will have access to a 1 hour 'Artist Success Blueprint' live Q&A call where Carlos Castellanos and Bob Ostrom held where they answered the most pressing questions artists just like you had about getting more work and increasing income.
 It goes way beyond marketing, self-promotion and your portfolio. It cuts to the absolute truth of…
– Why you're still struggling as a freelancer or why you haven't gotten started yet.
– Why you are not charging what you're worth.
– Why you're not finding enough of the right clients.
– Why you're in constant feast or famine mode.
– Why blaming the economy and/or your clients are just excuses.
The information on this blueprint can be worth literally thousands, even tens of thousands of dollars to you. I'm not kidding!
Bob and I have over 50 years combined experience of successfully navigating the hostile, ever changing freelance landscape. We share our successes and our mistakes so that you can progress in leaps and bounds, instead of baby stepping your way through a minefield of frustration and time wasting mistakes.
Let me be clear, I don't claim to have all the answers. I've made, and continue to make many mistakes. But I make them because I am constantly learning and pushing myself to grow and improve. And what I've discovered that works for me and others just like you along the way, I am willing to share with you.
Here's what other artists like you have to say about the Artist's Success Blueprint:
Just spent the day going through the blueprint. It was great! It is my hope that with this blueprint I will be able to finally launch into full time professional status with my work. Maybe I'll be able to take a break every now and then to share my progress that has been inspired from your program. Thanks for all the great work that you guys are doing!" –   David Vallejo, Illustrator
I am taking action to put these to work immediately in my business. I am also implementing the DBS Blueprint to make my business planning and implementation more concise.  Thanks for helping me launch, measure, monitor and adjust my new business more effectively." –   Mack, Illustrator
Thanks for providing the Blueprint. I just spent the last couple of days listening to the audios, filling out the worksheets and really thinking about where I want to be with my artwork and business. I hope that others will take advantage of this great information and move themselves forward on their pathway to success." –   Jean Judd , Textile artist
I did learn a lot from listening to the audio, so much so that I listened to it twice. …as it is now almost 3am I should probably head off to bed. Thanks again for all your awesome work and I look forward to checking out more stuff tomorrow." –   Alicia Dillman, Illustrator
How much longer are you willing to continue to struggle to make your art pay you what you deserve?
Every day you put it off, it's costing you thousands of dollars in income and countless months and years you will NEVER get back.
I'm passionate about helping you discover and share your creative greatness, while you build a better business and the income you and your family deserve.
Special Bonus!
Order the DBS Artists Success Blueprint' now and also get access to a special 60 minute live Q&A call with Bob and Carlos. Where they answered the most pressing questions artists just like you have about attracting better clients, making more money and doing more of the kind of work you love.
For a very limited time, you can get it today
for only $9.97