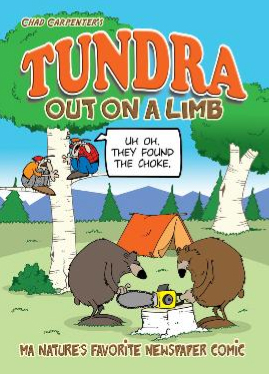 This is my first post in 2013 and since the holidays. In this interview I speak with Chad Carpenter, creator of the ever popular and very funny 'Tundra' comic strip, and his marketing director Bill Kellogg.
'Tundra' is the most successful and widely distributed self-syndicated strip in the country with over 500 newspaper clients. And to me, it's no surprise. The strip is brilliant! We talk about how it started, how they gained momentum and build an audience, and what key principles and strategies helped in leading to their success.
As you'll find out, despite his great success Chad is a committed workhorse and goes all out to connect and create a relationship with his Tundra fans.
One of the key strategies Chad discusses in building his audience is somewhat obvious looking back on it. So obvious in fact, that that is why most of us tend to overlook the opportunity in favor of something more complicated. I'll admit it, I'm one of those stubborn people who tend to overcomplicate things to the point where they become almost unsurmountable. Am I the only one, or do I have company?
And lastly, for those of you who are struggling with building an audience for your own print or web comic, graphic novel, book or whatever creative property you happen to be developing/working on, we discuss their upcoming seminar 'Success In The World of Comics'.  This is a great opportunity to learn directly from some of the most successful artists in the industry. Check it out!
If you you like the interview leave a comment and share with your pals via the social webs. We would appreciate it and thank you in advance : )
P.S. My phone connection was a bit wonky, But it is?bearable,?so I apologize. But hey, we do the best we can with what we've got, right?
Audio clip: Adobe Flash Player (version 9 or above) is required to play this audio clip. Download the latest version here. You also need to have JavaScript enabled in your browser.
Where to find Chad Carpenter :
Related Posts: