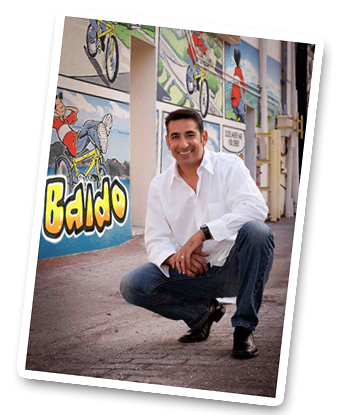 This site was created to serve as a valuable resource of proven marketing and positioning strategies to help freelance artists prosper at the creative work they love, while also serving as a source of encouragement and accountability to those artists bold enough to do the work necessary  to attract Better Clients and Charge Higher Fees and prosper as creative professionals.
Hi, My name is Carlos Castellanos, since 1983 I've been freelancing fulltime. I've produced award winning illustrations for a who's who of commercial clients, ad agencies and major publishing houses.
I am also co-creator/artist of the popular nationally syndicated comic strip 'Baldo', the first Latino family comic strip syndicated in the U.S. by Universal Press Syndicate to over 250 news papers nation wide and executive producer of the animated Baldo TV series currently in development.
Areas of expertise I have developed over the years is in that of direct response marketing and  Hispanic marketing. I've served as consultant and trainer to ad agencies and graphic arts organizations, has been interviewed by radio news and TV networks including CNN En Español.
Helping Creative Professionals Succeed
I am absolutely passionate about motivating, inspiring and coaching creative entrepreneurs on the realities of how to achieve greater success through their art and businesses. The world needs your light, your point of view and your creative solutions to entertain, educate and inspire.
I am constantly investing in himself and I challenge you to do the same. I believe that practically any creative professional can transform their creative passion  into a healthy income, enviable lifestyle and go from Starving to Thriving once you make the decision to take full responsibility and a 'no-excuses' approach to achieving the success you desire.