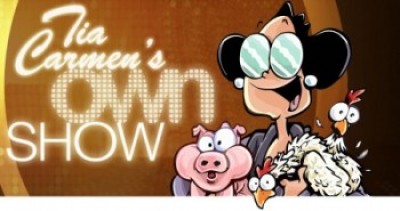 When it comes to marketing your creative services, the real challenge is always a matter of standing out, and making the right connection with your core audience.
We all strive and struggle with creating marketing messages that are relevant and new.
So the challenge really becomes holding the recipients attention long enough to give you a chance at making a connection. And nothing is more effective than meeting your customer where they are.  Marketing and delivering a message that is relevant to your audience. In this case, where their attention and focus is already.
Make the link to trends-

1- Comment on them and/or link your business to them, to elevate yourself as an innovator and/or expert, with clients, prospects and/or media.
As an example, after a recent discussion about trends with an old high school friend of mine who owns a scuba dive shop in south Florida, she is starting a new marketing/awareness campaign for her dive business tying into the BP oil spill that's been in the news for the last month and will continue to be on peoples minds for the foreseeable future.
She's positioning herself as an ecological expert on our South Florida waters and the effect the spill will have on our reefs and the many organisms that inhabit it . The BP spill is already something weighing heavily on her prospects minds, she's entering a conversation already going on their head and she's weaving her business story into it.
Not only will she more likely attract her prospects attention, chances are very good the media will find the tie-in interesting enough to give her story some coverage.
I recently used this technique myself by linking one of the characters in my Baldo comic strip to a contest Oprah Winfrey was running for the last several months. Where contestants submit a video of themselves with a show concept in a quest to win a spot hosting their own TV talk show on Oprah's network. I used the opportunity to create a short video that was submitted by my character to the Oprah contest. We put out a press release on my 'Vote For Tia Carmen' campaign and over the course of seven days time generated quite a bit of interest and engaged our audience, building up our audience and building up several hundred new subscribers to the site in the process.
Now, admittedly we were a bit late on this. We came in on the very last week of the contest. But was still able to make it work for us.
Stay alert to opportunities as mentioned above to link your freelance services to trends – for communicating with editors of industry periodicals, wrtters, radio and TV talk shows, articles for your own newsletter or media, press releases, as well as for advertising. Hey, it's tough to beat "trends" as a fascination trigger.
So what are some current trends that you might be able to link to?
Here's a few ideas from one of my recent mastermind group meetings:
BP oil Spill
World cup
Economy
Locally treated sewage spill
Sustainable living (going green)
Oprah show
Mobile computing
Breakdown of trust in financial institutions
NOTE: Comment on them, but tread lightly on taking a stand or position on really controversial or polarizing topics.
Be on the look out for part 2 of this series
In the meantime, feel free to share any ideas you come up with or have used effectively in the past in the comment section.
Related Posts: