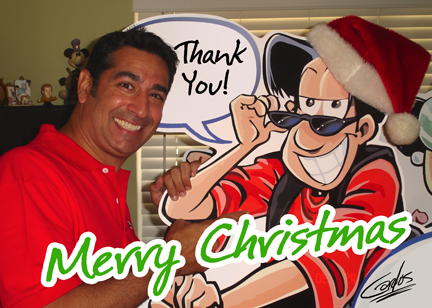 Just wanted to take a moment to wish you a GREAT holiday with your family and friends. I also want to thank you for sharing all of your comments and continued support through the process of putting together this site. I can't fully express how much I appreciate you.
I have grown immensely through this process, tackling many aspects of my own business that were initially very uncomfortable for me, which you have unknowingly helped me get through via your support and encouragement. I'll be sharing all the details after the holidays when everyone has had a chance to sober up from the festivities and ready to get back to work.  Stay tuned.
Also, I'd like to introduce you to a good friend of mine and new contributor to the Drawn By Success, children's book illustrator Mr. Bob Ostrom.  Listen to the audio below for a formal intro and a clue of things to come.
Hint: Be prepared to challenge yourself to play BIG, way BIG.
Once again a GREAT BIG THANK YOU for being here and being a valuable part of this community.
Carlos Castellanos
Related Posts: